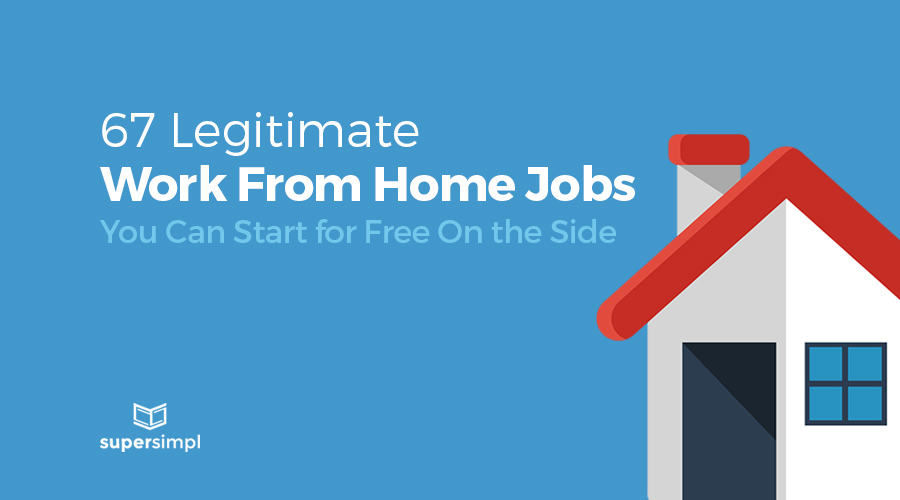 You don't need a boss, a building, or a commute to make money on the side.
You really don't even need a "job" in the traditional sense.
In fact…
you may be better off being self-employeed. Creating your own work from home job.
David Picciuto makes a nice living creating videos that teach others woodworking at MakeSomething.tv
Lauren at GirlyKnits.com has a monthly income of over $1,000 selling knitting patterns.
Noell over at Paperclipping.com gets paid to blog and teach others how to scrapbook.
I have friends that make money decorating cakes. Podcasting. Tutoring. Writing.
Others help people organized, plan events, or even improve their health.
All of which are legitimate work from home jobs!
If you haven't already figured it out, things have changed.
You no longer have to settle for minimum wage flipping burgers or working long weekends in retail.
Especially if you have valuable knowledge and skills.
Whether you like people or pets, music or writing, sales or marketing…
and whether you need $1,000 per month or $10,000 per month…
the opportunities are endless.
And while the following isn't an exhaustive list of what's possible…
I hope it will give you some ideas of ways that you can start earning some extra money on the side.
Without startup fees. Upfront costs. Or lengthy applications.
These legitimate work from home jobs are all things you can start on the side for free. Today.
To save you time, I've broken them down into a few categories.
---
Work From Home Job Categories
---
VIRTUAL ASSISTANT (VA) JOBS
Whether you're looking for a few hours per week or a full-time gig, being a Virtual Assistant can be a great source of income.
You get to use the in-demand skills of a traditional assistant, like organization, motivation, and attention to detail. But you can do it from just about anywhere.
If this is a work from home job you're interested in, a good starting place is the International Virtual Assistants Association.
Virtual Assistants can be needed to handle a wide variety of tasks. Some businesses are looking for generalists. Others need a more specialized skill set.
Here are just a few of the types of VA's frequently sought after:
Executive VA
Being an executive VA is precisely what it sounds like. You'll work with an executive to assist with scheduling, meeting preparation, making travel arrangements, and corresponding with clients or business associates on behalf of the executive.
Your clients will likely be higher level professionals, and you'll need to be prepared to meet those particular needs.
General VA
A general VA caters to a wider variety of professionals. Anything from realtors and mortgage brokers to marketing specialists and life coaches.
If you're new to the world of virtual assisting, this is a good place to start. You'll likely handle scheduling and correspondence for clients, as well as document preparation, research, and a handful of secretarial tasks as well.
Marketing VA
A Marketing VA typically helps support small businesses, marketing departments, or even agencies.
Tasks may include market research, writing press releases, social media posting, or creative tasks like graphic design.
My wonderful VA, Katie aka Miss Moneypenny, helped me research and write this very post.
MARKETING JOBS
When I say marketing, I mean everything from advertising and media buying to email marketing and social media.
Business around the world need marketing help. Large companies often need help with specialty tasks.
Marketing agencies need help on projects when there's more work than their staff can handle.
Small businesses and entrepreneurs need help with routine tasks like emailing their customers and clients or staying active on social media.
Here are just a few of the work from home jobs you can do in the field of marketing.
Public Relations
Interested in helping others connect with the public through media outlets?
Can you write press releases? Organize parties and conventions? Create marketing campaigns?
Then working in public relations (PR) may just be a for you.
Take a look at MediaBistro.com to get the ideas flowing.
Online Community Manager
An online community manager builds, manages, and develops online communities that are attached to specific companies.
For example, Harley Davidson motorcycles has an online community of passionate enthusiasts.
An Online Community Manager moderates, controls, encourages, and develops conversation.
In addition to helping people make connections and interact, you'll also have to deal with disgruntled customers and the occasional troll.
Social Media Manager
Business owners and start-ups around the world are busy! And they need help growing their business.
They need help marketing their brand, and establishing themselves. In this digital world, that means social media.
But social media takes time, and know-how. Did I mention time?
Why not make your business helping their business?
CREATIVE JOBS
Do you make crafts, take photos, compose music, or design amazing graphics?
There's a job for that. Yes, a legitimate work from home job to be precise.
We've put together a short list of some of the ways you can use your creativity to make money on the side or from home.
Web Designer
Do you dabble in web design? Better yet, do you have a background and/or significant experience in web design?
There's no reason why you can't work as a contractor for an agency or firm.
There are also businesses searching for people like you right now. You can find them on craigslist.org, upwork.com, and guru.com.
Need a third option? You can actually design sites and sell them after the fact through sites like themeforest.net (of which I'm an affiliate).
Newsletter, Brochure and Flier Services
There are companies that need newsletters to be researched, written, designed and distributed. You just may be the person to do that.
If you have good research skills and can write persuasively, it may be a lucrative project for you.
There are design programs online, such as LucidPress, which allows you to create and download newsletters, fliers, and brochures and send them off for distribution for your clients.
Like web design, you can also sell your work through sites like graphicriver.net (affiliate).
Sell Crafts on Etsy
Like making crafts? Ever post them on Facebook and have your friends go crazy wanting to know where you bought it?
Light bulbs should be going off over your head right now. Hello!?!?
Make more. And sell them! On Etsy.
Check out these case studies of how three people started Etsy stores that are making good money!
Graphic Designer
If you have significant experience with graphic design, then you have a heck of a career ahead of you.
The world is your oyster. As with web design, you can choose to go solo, contract with agencies, or sell your work directly.
In addition to upwork.com and guru.com, you can find work through fiverr.com and even on sites like 99designs.com (affiliate).
A good place to find graphic design is on job boards. FrugalFanatic.com has a good post about working at home as a freelance graphic designer.
Photographer
Chances are you know someone who has a photography business. And chances are, they're incredibly busy.
That's because people are more and more choosing to get out of the studio and in with a location-based photographer. Many are self taught and incredibly talented. Maybe that's you.
Here's a tip, don't do a little bit of everything, focus on one specific type of photography, like weddings, babies, or architecture.
Ready to start? Kristen Duke, of kristendukephotography.com, has a good post on how to start a photography business.
If you prefer to avoid the stress of working with clients, you can sell stock photos through sites like Getty Images and iStockphoto.com (of which I'm an affiliate). Other sites include PhotoDune (affiliate), Shutterstock, and Dreamstime.
Videography
There are a variety of reasons why people hire a videographers. Weddings and recitals come to mind, but it doesn't stop there.
If you can dream it, you can shoot it.
People love to have their cherished memories recorded, and if you have the equipment, talent, and ability to market yourself, you've got the means to provide a valid service.
And like selling stock photos, you could also sell your video work on iStockphoto.com ( affiliate), dissolve.com, or videohive.net (affiliate).
Music Composer
Do you enjoy composing and producing music? Did you miss your calling to work alongside John Williams? That's ok, you can still leave your mark.
Whether it's theme music for podcasts, movie trailers, or a one-of-a-kind wedding song, there is always a demand for custom music.
Sell Stock Music
Not interested in being told what to produce? Have a unique sound that the world has yet to experience?
Don't feel like you have to go find clients, plenty of people are making decent money by creating and selling music online.
Sites like Audiojungle.net, iStockphoto.com, and The Music Bed are great marketplaces to sell your snippets and grooves.
Voice Over
Do you have that James Earl Jones thing going on? Or that guy from Allstate?
Maybe your soothing tones have calmed many a contentious storm. Or just that of a wailing toddler.
Either way, there's money to be made in this department. Ads, commercials, movies and broadcasts – they all utilize voice over actors.
Here's some tips on how to earn extra money as a voiceover artist.
Scrapbooking

Because people love to have access to their cherished memories, lovingly laid out and neatly detailed with dates and events.
In fact, Noell over at Paperclipping.com has been at it for 10 years. And she's making a living teaching others scrapbooking.
IN-PERSON JOBS
So you like people, eh? Or perhaps tech just isn't your forte. That's ok.
Not all legitimate work from home jobs require you to be online.
In fact, many home-based jobs can be done in person. With human contact.
Yay for humans!
Landscape Designer
Notice this does not say 'gardener'.
It's kind of like being an architect. You utilize your knowledge of plants in your local climate, as well as an eye for design detail, you can do freelance work for people who need a little help working on curb appeal.
Homeschool Evaluator
A homeschool evaluator is one who reviews the curriculum and work of the homeschool students.
The reporting laws and educational requirements vary by state.
Check with your local school district for both requirements and recommendations!
Courthouse Researcher
Well, this couldn't be any more self-explanatory. But, it is a smidge cooler than it sounds.
Courthouse researchers are like detectives. They use those sleuthing skills to track down all kinds of records that may be applicable to pending court proceedings.
Things such as tax liens, deeds, prior lawsuits and charges. They're hired to gather this information by a variety of sources: law firms, home lenders, background information companies, etc.
Here are few places to start:
Errands Service or Concierge
Don't mind running around town? Want to help out those who may not have the time or the means to do it themselves?
Executives, business owners, busy families, and even the elderly. There are many who don't have the time or resources to handle their daily tasks themselves.
You may as well swoop in and meet a need while bringing in an income.
RealWaysToEarnMoneyOnline.com has a post that outlines a few of these types of errand services.
Order Fulfillment
Order fulfillment is pretty much what it sounds like. You'll be taking a product that your client produces and fulfilling orders from their customers.
It will likely require you to keep a collection of products available for prompt delivery, as well as to possibly gather shipping materials to avoid continued trips to the post office.
Seamstress
Are you a gifted seamstress? Can you alter, hem, or even create new garments or items?
Make your machine work for you by contracting out items to be made or mended!
Baker
Again, if you have the talent, this is an absolutely amazing business venture. If you base it out of your home, there's no overhead, no fees to contract under a bakery – and a lot of room to market yourself.
Birthday cakes, wedding cakes, even donuts and assorted pastries!
You'll need to follow any requirements necessary, get legal help to protect yourself, and gather all the permits and licenses needed.
Car Detailer
If you decide you'd like to take on this business venture – give me a call. Really.
Because I hate cleaning my car. And I'm willing to bet that I'm not the only one who feels that way.
Which means you've got the potential for a profitable business, my friend. You. Are. Welcome!
Chef
If you know your way around a kitchen, and you've diligently researched the requirements and licenses necessary to prepare and distribute (for profit) food from your own home, then by all means, fire up your oven!
There are a variety of ways you can utilize this skill. Catering for events and gatherings, providing consistent meals for busy professionals who don't have time to cook for themselves, or even creating your own business delivering meals to the elderly!
Bike Messenger
Being a bike messenger is like being paid twice – once for the messages delivered, and once for the exercise.
It's like those offices where you run on the treadmill while working on your computer.
Except outside. And not quite as strange.
This is particularly useful in metropolitan areas. Busy streets and busy businesses utilize bike messengers to dispatch important files and documents much quicker than mail, and that's where Bike Messengers come in.
Dog Walker
Being a dog walker isn't necessarily an 'at home' business…
unless you're not a very good dog walker.
But it's still a business you can start and run out of your home.
Boot up your computer, make a few fliers, contact some busy dog owners, and get a route planned out!
Pet Sitting
As much as people love their pets, they aren't always around to care for them. And they generally people prefer individuals over kennels to give their beloved pets the care they deserve while they're away.
If you have a home with a fenced yard, time on your hands, and are fond of animals, you can provide a service that is much appreciated.
Direct Sales or Network Marketing
Think Mary Kay, Isagenix, Jamberry.
If you're probably thinking that this isn't for you, you might want to think again.
If you've had a bag experience with a friend or colleague in network marketing, it's because they weren't doing it right.
The bottom line is, so many people are now doing networking marketing and direct sales, well, because it works.
And the truth is, it allows you the opportunity to find a product you're passionate about, utilize it, and reap the rewards of systems that are setup to work in your favor.
Taking advantage of a company that is already established takes the legwork and guesswork out of starting up your own business.
Driver
A rapidly rising area of side hustle interest is as a driver. No, I'm not talking getting your taxi license. Yes, I know this can get controversial.
But by using a mobile app, people are arranging for rides from someone else locally, in lieu of public transportation or nagging their friend or mom into chauffeuring them around.
Check with your insurance for coverage and liability, then put those wheels to good use!
Here are some tips on how to make money with Uber or Lyft.
ON THE PHONE JOBS
So you like talking with real people in real time. But you still want to work in your PJ's?
There's no shame in that. Maybe I'm writing this at home in my PJ's. Or maybe not.
Here are a few legitimate work from home jobs that require a little more in-person contact, but still give you the flexibility to work when you want, wearing what you want.
Outbound Sales
Do you have a background in sales? Or are you a natural salesperson?  There are companies that hire people to contact individuals or companies that may be interested in the product or service they're selling.
They often provide you the leads – names, contact info, details. You'll get the list, learn about the product and perfect your pitch.
Event Planner
This job seems really, really cool. I mean, who doesn't like throwing a party?
Essentially, you get to throw big parties with someone else's money. I mean, sure, they probably have rules and will put the kabosh on the really cool things, like Pinata's shaped like Captain America, but still…
Travel Agent
Think Expedia killed the Travel Agent? Think again.
The industry may have changed a good bit over the last 10-15 years, but making travel arrangements is still big business.
Becoming a travel agent from home does require training and certification. However, the training doesn't take too long – somewhere between 8 and 16 weeks.
TECHNICAL JOBS
Is data your thing? Like spreadsheets? Typing?
Working alone with headphones on, blocking out the noisy neighbors, who are home, but not working. (Are they really having a party at 3pm in the afternoon on a Tuesday?)
Then these technical work from jobs are probably your best bet.
General Transcription
There's more work for transcriptionists than just in the medical or legal field. In fact, there is a significant amount of work waiting for general transcriptionists.
Everything from transcribing videos, emails, podcasts or dictated memos – and much, much more.
It's a consistent need, and there are companies that hire you to work for them if you don't feel up to tracking down client relationships yourself.
Some companies that hire transcriptionists are TranscribeMe, Rev, and Tigerfish.
Podcast Editing and Submission
Not familiar with podcasts?
In short, podcasts are on-demand radio shows with specific areas of interest. People who know things, decide to talk about these things, and record said talking.
There are podcasts about sports. Comedy. Cooking. Family. Business. Movies. TV. And even super niche shows like this podcast about New Orleans.
The end product is a digital recording posted online, which can then be downloaded to your smartphone via apps like Apple's Podcasts app or Stitcher.
Between the recording and the posting, podcasters often need someone to take their 'talking', and edit it and make it ready to publish.
Document Conversion
Once upon a time, there were documents that were all written and signed by hand. And then, there were documents that were created on a computer, and printed out and filed.
Believe it or not, there hasn't always been a GoogleDrive or The Cloud.
But now? Now, all of those wonderful things exist, along with boxes and boxes sitting in companies storage rooms full of documents that need to be converted into digital format and organized.
Are you a natural organizer? Do you have the equipment necessary to scan and organize such documents? This just may be a good choice for you!
ONLINE JOBS
Yes, I know I've already covered a number of work from home jobs that are, well, online. But, they also fell into other categories. Like VA, Marketing, Creative or Technical.
The following are legitimate ways to make money from home, but that are maybe, a little unusual, or less common.
But hey, this might be where you uncover that special job you've been wanting but didn't know you were wanting because you didn't even know it was a THING but it is a thing and now you know.
User Testing
People build websites. These websites do things.
Maybe they let you create your own virtual world. Maybe they let you create your own blog. Or, maybe they let you design blankets for your cats.
I don't judge.
Whatever these websites are for, they need to work. And work well.
Your job, should you choose to accept it, is to visit the site, complete the task that the website was designed for, give your feedback.
And you get paid. For your opinion! I know, right… your mama was wrong after all.
Podcasting
Yes, we're still talking about podcasting. Trust me, it's a thing. And yes, you can make money from it. (Though you shouldn't plan on making enough to retire early)
Is there a subject that you're exceptionally knowledgeable about? Or even a subject that you're really interested in diving into a little deeper?  Are you a good listener? Have a talent for carrying conversations?
You may want to consider podcasting!
You'll need some equipment, but not much. More importantly, you'll need persistence. It takes a while to build an audience. And that's where the money is.
Advertisers will pay you to run ad spots on your show, but there are also other ways to make money with a podcast.
Blogging
Who knew there were so many people out there that knew how to cook, clean, raise their kids, exercise, have a home business, homeschool, be financial geniuses and still have time to blog about it?!
Are you one of them? Or more importantly, do you have something original, entertaining, or unique to you to share?
Then speak out! Let the world hear your voice, and earn an income while doing it! You'd be surprised to see how much money successful bloggers can make.
Here are just a few great sites all about blogging to get you started: Problogger.net (affiliate), SmartBlogger.com, and BecomeABlogger.com.
Search Engine Evaluator
Search Engine Evaluators are pretty much professional web-searchers.
Slap that on your business card.
In slightly more detail – they measure the effectiveness of the results from the specified query.
Work At Home Adventures gives some good tips on LeapForce search engine raters!
Coaching
Not little league, my friend. Sadly, not a lot of money to be made in little league.
But life coaching? Business coaching? Blog coaching? Real Estate? Finance? Wellness? There's money in them thar hills!
For starters, here's a good post on how to make money as a life coach.
Selling Online
Take advantage of the online marketplace by setting up your own store, under the umbrella of a well known merchant.
Sites like Ebay, Craigslist, Shopify, and even Amazon provide a platform for you to sell merchandise for a profit.
The product opportunities are really endless. Everything from used items you don't need to new items you find at discounted rates.
Or even brand new products that you've designed or purchased in bulk.
Mystery Shopping
How about you get paid to go shopping and spend someone else's money?
Yeah, sign me up!
But seriously, you can get paid to visit stores and restaurants and then provide detailed feedback based on your experience.
Companies use this feedback to improve customer service and the overall experience.
Here's a list of legitimate mystery shopping companies!
Amazon FBA
Amazon offers a fantastic opportunity for sales where they do all the heavy lifting. No product on hand, no shipping, no customer support.
It's called Fulfilment By Amazon, and here's how it works:
You do the research, you secure the product, you determine what you think will bring the best profit for you, purchase product, and ship it to amazon. Then they post it online, sell it for you, and ship it to your customer.
Jessica and Cliff Larrew make over six figures a year with Amazon FBA.
Here's a list of pro-seller tips, as well as the link to the Amazon FBA page.
Shopify
Shopify gives you the opportunity to build your own online storefront, practically ready-made.
You decide what you want to sell and handle the product, marketing, and business side of things. Shopify handles the online store.
Learn how to start an ecommerce business without any money.
Affiliate Marketing
Are you familiar with affiliate marketing? It's the process of marketing other people's goods or services, and then earning a percentage/commission based on the sales that come through you.
If you've got yourself a website, a blog, an email list, or a podcast, you can post advertisements for companies who are looking to increase their sales.
As you've probably already noticed, I'm an affiliate for several online brands that I use and trust. I've noted each in parenthesis beside the link.
Sell T-Shirts
Are you a fan of niche, quirky, or surprisingly specific t-shirts?
Well, so am I.
So are a lot of other people. If you have a gift for design and a little advertising sense, then perhaps you could become the next t-shirt designer!
There are even websites that have you set up your storefront for just this purpose, as well as allowing you the tools required to design, create and even produce your products.
Learn how Benny Hsu made $100,000 in 5 months from selling t-shirts on Teespring.
TEACHING JOBS
Like teaching? There's a work from home job for that, too. And not just children.
Online education is growing rapidly. And it's only going to get bigger. You can teach just about anyone, anywhere in the world, from the comfort of your own home.
Here are some ideas for you:
In Home Tutor
There are several different routes you can take with tutoring.
There are accredited companies that hire tutors to work for them, or to connect them with clients. This route generally requires some kind of prior teaching experience or even a degree.
Unsurprisingly, it's steadier work with a healthier paycheck, but it's not your only option.
Private tutoring is also an option. You can do this out of your home, or in home for others. The qualifications vary, and thus the requirements and pay do as well. But it can be done, and it's quite fulfilling.
Online Tutor
There are a growing number of companies that offer online tutoring services. They are consistently looking for tutors who have experience and education in specific areas.
Students of all ages (and let's be honest – often their parents as well) rely on tutors to help them understand difficult classes and prepare for exams.
If that's something you think you may be good at, give it a shot!
Good places to start are Tutor, Tutor Vista, and Smart Thinking.
Music Lessons
Speaking of teaching, do you have musical skills and enjoy teaching? Consider teaching music lessons.
Another growing development in music education is online music lessons – and it's working remarkably well!
Websites where you can register to teach music lessons online include The Zoen and Live Music Tutor.
Online teaching
The opportunities range from K-12 up through college, dependent upon your personal education, and can vary based on the companies that you contract through.
A good place to get started would be to look at the requirements in your home state for K-12.
Universities and online institutions will have their individual requirements listed for their positions.
WRITING JOBS
Yes, make money from home writing. Your 12th grade English teacher would be so proud.
Here are some of your options.
Magazine Writer (articles)
Are you a wordsmith? Dream of seeing a byline with your own name on it?
There are many magazines who hire freelancers in addition to – or even in lieu of – full time writers.
Freelancers have the opportunity to reach out to many different markets and genres, which allows their portfolio to grow, and their niche to widen.
You'd be surprised at some of the magazines that hire freelancers – names such as Forbes, Redbook, and WebMD.
Copywriter
Copywriters are those brilliant folks who reach out and grab you and make you buy that thing that you're still not sure what it does … but you know it's awesome.
Becoming one of those people really means you should be good with words — and not necessarily in the potential (or former – or even current) English Teacher way (although that certainly helps), but in the persuasive way.
A strong understanding of behavior and how people make purchasing decisions is a strong plus.
You need to be able to persuade people to take action.
Author
There are a variety of routes you can take to make this dream become a reality.
One of them, the traditional route, includes agents and publishing houses.
This is a perfectly viable option – albeit a competitive one. But I believe in you!
There is another route, as well.
Self publishing has become quite a popular alternative to the traditional method, and the resources to do so seem to be countless.
This does not mean that you should fire up your old DeskJet and staple your pages together.
Self-publishing means that you publish your book, of your own expense, without the assistance of a publishing house.
That doesn't mean that you have to do it all on your own, though. There are options available to walk you through the process, the most well known (and well-used) being Amazon Self Publishing.
Steve Scott, who reportedly earns over $40,000/month via publishing, walks you through the process of quickly publishing and selling multiple books on Amazon on his website.
PROFESSIONAL JOBS
You've had a professional career, and now, for whatever reason, you're no longer interested in the traditional route.
But you also don't want to veer too far away from your background, experience, and training. These professional work from home jobs are probably more in line with what you're looking for.
Bookkeeping
If you have experience or education handling the sometimes complicated finances of business, you may want to consider a home-based career in Accounting or Bookkeeping.
You can choose to work with one or two clients, or if you've got the time, you can launch a full-fledged bookkeeping business with dozens of clients.
Here's a fantastic article about starting your own bookkeeping business from home.
Proofreading & Editing
Do you have a good command of the English language? Do you have an eye for detail and a solid grasp of grammatical rules? Then proofreading and editing may be a good choice.
There are so many directions you could go with this. There's resume writing and editing, thesis/papers editing (not writing – because that's all kinds of unethical, you know), novel editing, and even editing scientific journals or professional publishing houses.
These 12 online editing and proofreading jobs with details will be a good place to go next.
Project Management
A project manager gets paid to make sure stuff gets done. On time. And on budget, using the resources available.
There are definite bonuses for education here. Many project managers in larger organizations have degrees in this, and for good reason.
But if you're freelancing, or have equivalent experience to a degree, you can absolutely succeed. After all, not every project requires the same level of experience and background.
Learn how to become a freelance project manager or check out online postings for project managers at upwork.com.
Consulting
Consultants help people or businesses find and solve problems, or get the results they're looking for but can't seem to attain.
Anything from music education to corporate communications, and everything in between.
Generally, consultants come from previous success performing the work they're now consulting in. If you helped a small business grow from 5 to 50 people successfully, there's a good chance you can help other businesses do the same.
Yoga Instructor
People are yearning to find their 'zen', their inner peace, their center.
Is that something you can provide? Are you an experienced Yogi, and are you willing to pass on that knowledge to those around you?
Here are more details how to become a yoga instructor.
Life Coach

Do you have a handle on some particular level – goal setting, organizing, productivity, or even relationships?
If you have something you can teach someone else to help them better themselves, there's a market for that. And here are some details on how to make money as a life coach.
YOUTUBE CHANNELS
Did you know that YouTube is the second most searched site in the world – just one step behind Google?
It is. People love videos. All types of videos.
And if you've learned anything by now, you should know that where lots of people are, there is money to be made.
You may be asking, why a whole section on YouTube videos. There are three reasons.
1. There's huge potential. There's money to be made and the demand for videos in only going to increase.
2. There's not much cost to getting started. Most smartphones today record in HD and you can upload from just about anywhere.
3. You can post videos on just about anything you know about or are interested in. There's really something for everyone.
So take a minute, and check out these legitimate ways to make money from home with a YouTube channel.
YouTube Partner Program
Now, you don't necessarily have to have your own TV channel or be a YouTube personality to be able to make money with YouTube (although having it in addition to the partner program will give you much more income).
Here's the deal. YouTube gives opportunity for Affiliate Marketing and Adsense, and the more viewers you have the more money comes in.
YouTube assigns ads to the videos, and you get a portion of any income that comes from clicks.
You post videos that help or entertain people, Google shows them ads, you get paid.
Exercise Instructor
Thanks to YouTube, people can get their exercise on in their living room with the help of their computer, tablet, or even their phone.
If you're a fitness guru, trainer, or even if you have a routine that works for you, you could be the one calling out directions.
You'll be helping people out and bringing in some income at the same time!
Baking or Cooking Show
Many people who rely on tutorials and cooking shows by real-life people who give real-life tips.
You could do that! Right?
Try to find some kind of twist on the original… exotic foods? Semi-homemade? Interesting twists on original dishes?  Even specialized health food, think Gluten-free or diabetic cuisine.
Gretchen, from Gretchen's Bakery, has a vanilla sponge cake video that's been viewed over 1,000,000 times.
Product Reviews
This is another cool area to consider. You'll do well if you can pick a niche – makeup, kitchen gadgets, made-for-tv products, or toys.
Real life people testing real-life products, with real life results.
Pop Culture and News
Are you up on current events? Get paid to speak your mind!
Pick a topic, like celebrities, up and coming movies, politics, political figures, you name it.
Give us your opinions, your insights, even your humor. Then monetize, market and build your channel.
True Crime and Mysteries
Are you fascinated with cold cases? Do real life mysteries enthrall you? Well, why not turn that passion into an income?
If there's anything that cable television teaches us, it's that people love mysteries. In fact, podcasts like Serial and Mystery Show are popping up all over the place with great storytelling.
Teaching Lesson
I bet you know things. Things that other people don't know. Music, math, Latin, how to solve a rubix cube.
These are things that other people would like to know. And they go to YouTube every day looking for videos to help them.
Prepare and record lessons, upload them to YouTube, and let people learn from you while growing your following and gaining income.
The more videos, the more traffic. The more traffic, the more income.
Next Steps
Your next step? Pick one.
Seriously! There are two big hurdles that people face when trying to make money working from home at something new. Something they've never done before.
One is not choosing.
Yes there are a lot of options, but I'm fairly certain that if you're into car detailing, you're probably not going to host a Mary Kay party.
So narrow it down to a 3-5. List the pros and cons of each.
Ask your spouse, family, or friends what they think you'd be good at.
Then pick something.
Then, after you pick something, start.
That's hurdle #2, and it's a big one.
Don't worry if you're not good enough. Don't worry if you don't have a degree or enough training. You don't need a business plan and you may not even need a website or business cards.
More often than not, those are just ways people procrastinate and avoid doing the hard work.
The hard work is doing something. Tacking action. And if you don't take action, you won't start earning money.
Which means you and I have both just wasted a lot of time on this guide!
So get going. NOW!