She waited patiently through my entire workshop to ask me one question…
Jackie had been to several of my seminars and workshops over the years. She always took pages upon pages of notes. I could tell she was eager to grow her online business.
This particular workshop was on content marketing. I spent most of the workshop talking about writing and sharing great content. Content marketing ideas. And how important content marketing is in growing your business.
As I anticipated, when we hit the Q&A period of the workshop, Jackie's hand shot up.
"How do I know what's working? I don't have time to waste on stuff that doesn't work"
It's a great question. And unfortunately, one that most people don't take time to ask. Or answer.
I have an entire seminar on measuring and marketing analytics. But I knew she needed 'something'. She needed the highlights. The 5 minute overview.
And that's what I've put together for you here:
5 Super Simple Ways to Track Your Marketing Efforts
Whether you share your content on Facebook, Pinterest, Instagram, or LinkedIn…
Track it.
Have a link in your Twitter or Instagram bio?
Track it.
Sending an email to your list?
Track it.
Whatever you're doing, track it!
You need to track your marketing efforts to see what's working. If you don't, you'll waste much time and energy doing Things that don't work. Trust me, I know. From experience.
It's like exercising. You might not care about it now, but your future self with thank you Big Time if you do.
I'll make it easy for you. You can thank Jackie.
Here are 5 simple ways to track your marketing efforts today, so you can focus on what works.
1. Add a UTM Source Code to Your URL
Umm, you want me to add a what to my what?!?
Just hold on a second…
Sounds fancy. It's not.
Stay with me – I promise it's not complicated.
UTM stands for Urchin Tracking Module. Urchin was an analytics company that Google bought. You don't really need to know that, but you might be the sort of person who wonders how stuff gets named. You're welcome.
Anywho, their tracking module made it easy to track where links were clicked.
Think: adding the same link to an email vs blog post vs Facebook ad.
In short, you just add a little bit of text to the end of a link url and Google will track it.
For example, the URL (link) for my SuperSimpl Traffic Course is: supersimpl.com/traffic-course
And let's say I want to share that link on Facebook and LinkedIn. But, I want to know how many people came to the course from each social platform.
A simple, yet important, metric.
All I have to do is add the following text (in bold) to the end of my link for Facebook:
https://supersimpl.com/traffic-course?src=facebook
And the following for LinkedIn:
https://supersimpl.com/traffic-course?src=linkedin
And you probably guessed it already, but just in case, "src" equals "source".
That's it. Now you can track any link from anywhere.
Posting an image link on Pinterest? Just add ?src=pinterest
Twitter bio? How about ?src=twitterbio
Want to get all fancy pants?
I thought you would…
What if you want to test three different posts on Twitter to see which one gets more clicks to the same blog post?
For example, back to my SuperSimpl Traffic Course. What if I wanted to test each of these three headlines:
Headline 1: Five Simple Steps to Get More Clicks and More Customers, Even When You're Short on Time and Money supersimpl.com/traffic-course?src=twitter
Headline 2: How to Dramatically Boost Your Website Traffic and Start Turning More Visitors Into Paying Customers supersimpl.com/traffic-course?src=twitter
Headline 3: NEW! Mini Course: Five Simple Steps to Get More Clicks and More Customers supersimpl.com/traffic-course?src=twitter
If I just put the same code, ?src=twitter, at the end of each one, I wouldn't know which headline got more clicks.
But, what if I just add a little more text to the end of my link?
I could do this:
supersimpl.com/registration-traffic-course?src=twitter-headline1
supersimpl.com/registration-traffic-course?src=twitter-headline2
supersimpl.com/registration-traffic-course?src=twitter-headline3
That's it!
Now I'll be able to tell how many clicks came from Twitter. And, which headline they clicked on.
Your turn.
2. Use the Google URL Builder
Now you know the easiest way to track your marketing efforts.
If you're not sharing posts on multiple social media sites every day, using email marketing or paid ads, that's enough to get you started.
But, what if you ARE doing all those things? What if you're really trying to grow your business and you're doing all those things.
You probably want to get a little more detailed. Especially if you're running ads. And especially if you don't want to waste your time on marketing efforts that don't work.
That's where the Google URL Builder comes in.
It's a free Google tool that lets you create long, detailed tracking links. You can use those to track all aspects of what you're doing with your links.
For instance, if I'm promoting an upcoming webinar on boosting website traffic. And that webinar lets customers know about my paid traffic course. I'm going to run a series of Facebook ads, in addition to sharing on social media.
My Facebook ad campaign is going to include different groups of people. Different ad copy. Different images. Even different calls-to-action.
And I want to know which of those combinations is working well and which ones are wasting my money.
Wouldn't you?
That's where the Google URL Builder comes in. Here's how it works:
1. Go to the url builder (link)
2. Add the link to your specific post or page
3. Add your details in the form fields.
Leave blank any fields you don't want to track.
The campaign source for my Facebook ads would be "Facebook".
For the campaign medium, I would use cpc (cost per click) or cpm (cost per 1,000 impressions)

Next is the Campaign Term. If you're targeting search terms, like ads on Google, you would add those here. Since I'm not, I might use this to track a headline or CTA (call-to-action).
If I'm testing different images, I might add them in the Campaign Content. For example, Graphic vs Headshot.
The campaign name is very important. Use the this field to track your entire campaign. Show what you're promoting. For me, this would be my traffic webinar.
Once you're done filling in the form field, click Generate URL.
This is what I get:
So that's what I would copy and paste for my specific Facebook ad set. To test the headshot image against a title graphic, I would just change the Campaign Content field from "headshot" to "graphic". Everything else will stay the same.
Then I would generate the new link and use that for the add with the title graphic.
Yes, it's ugly, And no, you don't need to understand it.
That's where the next tool comes in.
3. Google Analytics
By now, you may be thinking…
'That's all great, but how do I see the results? How do I actually track my marketing efforts where I can view the links clicked?'
Or, you may be thinking 'I need more coffee'.
I can help you with the former.
That's what Google Analytics is for.
If you don't have Google Analytics installed, go do that now. Here is a video tutorial of how to create a Google Analytics account and install it on your website.
Once you have Google Analytics installed, you can see the activity for your UTM links.
When you login to your analytics account, go to the Acquisition tab and click on it. Then click "All Campaigns" and you'll be able to see your various campaigns.
Remember in #2 above, I entered "septembertrafficwebinar"? That would be my campaign name. Google will now show me how many people clicked on links for that campaign. How many pages they visited. How long they stayed. And a whole lot more.
Note: I have not used that campaign, so it's not listed in the graphic above. 
If I click on a recent campaign, I can see the source/medium tags that I used as well as their related data.
I can click the Secondary Dimension drop down tab and select Ad Content to see which type of content or image I used.
In the above example, this would be either "headshot" or "graphic". In my example (below), there was a basic graphic and a traffic webinar graphic. That's what is showing in the Ad Content column.
Obviously, there's a lot more to know and do with Google Analytics, but this should be enough to get you started.
Again, the main thing is just to go to the Campaigns section of the Acquisition tab.
So now, you can add simple and complex tracking code to your links to see what's working.
Let's clean things up a little.
4. Use Bitly to Shorten and Track Your Links
Now we have the backend all set up so we can track our links. But perhaps you're a little worried about lugging around all the long urls that look like they came from your ninja cat.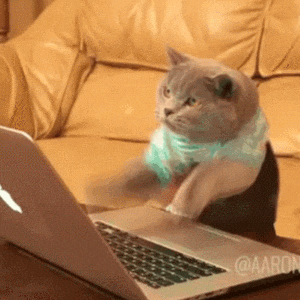 How about we clean that up a little with a link shortening service.
A link shortening service basically gives you a shorter link to replace your super long, ugly ninja-cat link.
There are several, but I use Bitly. And I've been using Bitly for years and years.
All you do is copy your long url and paste it over at Bitly. Bitly will, in return, give you a nice short link.
Plus, there are three more really cool things that Bitly offers.
More tracking! A chrome extension. And customizable links.
That's right, you want a quick glance at how your short links are performing. You don't want to go digging around through Google Analytics. Just go to your Bitly account and check out the stats in the dashboard.
Here's an example screenshot of one of my Bitly links showing clicks over time.
And here are details on where the links where clicks.
There is also a chrome extension that shows up in your browser. When you're on any web page and you want a short link to post on social media, just click the button.
And yes, you heard me… you can use Bitly to track links to sites that are not your own.
In other words, if you share useful blog posts on social media. Content related to your industry or niche. You can track which blog posts get the most clicks from your audience.
That will help you gain insight into what your audience finds valuable so you can then create similar content.
As far as customizable links, that means that instead of posting all your links using bit.ly, you can use your own domain.
Not only will you be sharing great content, you'll be creating additional brand recognition. Not too mention you'll be one of the cool kids!
For example, I bought the domain sprsmpl.me. It's a shorter version of supersimpl.com.
Note: It's best to use as few characters as possible in your short domain. Every character counts when you only get 140 on Twitter.
I've connected that short domain to Bitly. Now, when I shorten a link, it starts with my own domain instead of bitly's.
Let's say I have a link similar to the ones I created in part 1 of this post. I want to track people who click from this post to my free traffic course. I might create this link: supersimpl.com/traffic-course?src=trackingpost
Bitly will shorten that with my domain so that it becomes: sprsmpl.me/2cAsvCa
I can further customize it right inside of Bitly. I can make it prettier by using my own text: sprsmpl.me/trafficpost
And speaking of pretty links, another way to track your marketing efforts using nice, clean little links is with Pretty Link Pro.
5. Track Your Links and Make 'Em Pretty with Pretty Link
If your website is a WordPress site, you'll want to check out Pretty Link Lite/Pro (I'm an affiliate and have used it for years). Pretty Link is a plugin that will allow you to create url redirects for your site using your own domain.
To clarify, Bitly allows you to use a unique domain name, but it can't be your website domain name. It can only be a domain name set up exclusively for Bitly.
With Pretty Link Pro on your site, you can create short links to registration pages, landing pages, or blog posts. Add the UTM code. And make it all neat and pretty.
Something like my big nasty link from above
could simply become yourdomain.com/webinar
And to make things even cooler, I can change the resulting link and keep the pretty link the same.
Let me explain.
Let's say you have a live event or a live webinar once per quarter. Four times per year you advertise this event, and you only promote it for a 30 day window. You want to put a nice pretty link on a printed flyer, but you want to track it.
You create something like yourdomain.com/event-registration?src=flyer2016Oct. Which allows you to track all clicks for your October 10, 2016 event that come from your flyer. But you can't put that on your flyer. No one would ever try to type that into their browser. Especially on their phone.
So, you use Pretty Link to create a redirect that looks like yourdomain.com/event
When your January event rolls around, you don't want to have to change the pretty link. You don't want to use supersimpl.com/event2. You want to keep /event. That's fine. You don't have to.
Just update the pretty link, yourdomain.com/event to redirect to your new tracking link yourdomain.com/event-registration?src=flyer2017Jan
Boom. Pretty AND powerful.
You can also use this for sending people to event registration pages that are not on your site. For example, maybe you use Eventbrite for registrations. You can create a short link using your own domain that sends people to your Eventbrite registration page.
I have Pretty Link on my parent company site, BurlapSky.com. If I want people on my email list there to know about the course, I can create a pretty link using that domain. Here's a screenshot of how I would add a link to my SuperSimpl Traffic Course, using the tracking link I created above.
Obviously, I may change the actual UTM code. The point here is that I now have a nice pretty link, burlapsky.com/course that I can share and promote. If I want to promote a different course later, I can simply change the Target URL.
Pretty Link Pro also has some social media sharing features and automatic link replacement for your website or blog. If you've never checked it out, you should.
Do This Next
Like Jackie, you now have a few ways to track your marketing efforts. So go do it!
Is this new to you? Don't let the options overwhelm you. Just focus on the first step. Add a basic UTM tracking code to your links.
Again, if you post on Facebook, just add ?src=facebook to the end of your URL. It's really that simple.
Are you an experienced marketer? But you're not tracking all the elements of your posts and ads? Head over to the Google URL Builder. Create your first link.
But honestly, if you only do one thing after reading this, make sure you have Google Analytics installed. And that it's working properly.
Without it, you have no way of knowing what's working and what's not.
And ain't nobody got time for that!